INVESTMENT MANAGEMENT PROCESS
Our Client is Our First Priority ®
INVESTMENT MANAGEMENT PROCESS
When we accept the duties of investment manager for clients, our approach is tailored to achieve specific goals. As a trust company, we evaluate the entire breadth of a client's investment objectives including income, wealth preservation, estate planning, tax consequences, succession planning, asset protection and growth of principal.
Click Here To Request A Free Portfolio Review
Our process begins with a risk tolerance evaluation that helps us frame the investment horizon, asset allocation and investment objectives of the client. During this evaluation, we also develop an understanding of each client's current assets, liabilities and specific goals and objectives.
Our next step is to develop an Investment Policy Statement (IPS) detailing how investments will be managed. The IPS is reviewed with the client to ensure that we are pursuing the right strategy for that client and proper performance benchmarks are selected. Upon completion and execution, the IPS agreement documents a client's preference for investments consistent with the IPS. Our systems automatically track the structure and performance of each portfolio. When market events create a variance from the IPS parameters, adjustments are made.
Periodic meetings are initiated with clients to review the investment performance relative to a client's objectives so any changes can be captured and addressed.
The chart to the right illustrates our process in more detail.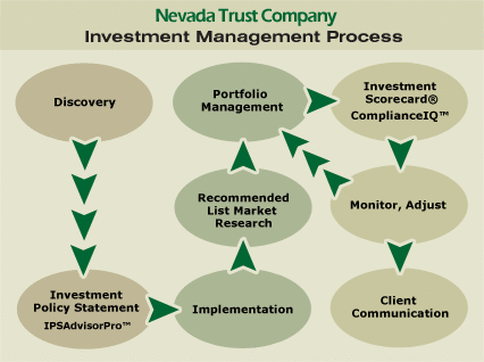 Discovery – Use of a questionnaire approach for gathering information to create a detailed profile of client needs, current investment positions, risk tolerance, tax constraints and sensitivities, and other issues relating to goals and objectives, including supporting documentation and client data.
Investment Policy Statement - Reaching clear agreements with the client on every topic, including documentation and acknowledgment to:
Avoid misunderstandings,
Set clear client/advisor expectations, and
Sow the seeds for a successful, long-term relationship.
Implementation, Recommended List, Market Research, and Portfolio Management – Downloading, printing and publishing the IPS, once revised and executed, marks the point at which the front end of the investment management process is completed. Uploading the historical data for existing and new relationships into Investment Scorecard® (IS) represents the commencement of the back end of the investment management process. Between IPS and IS stands the actual initial and ongoing portfolio allocation decisions and modifications resulting from changes initiated in reaction to market conditions, security-specific occurrences and outcomes, research-based decisions, and portfolio contributions and growth.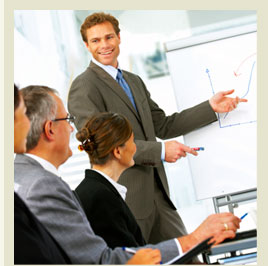 Monitoring and Adjustment – Compliance IQ™ is the portfolio monitoring module that compares the IPS to investment decisions to ensure adherence to policy by matching the IPS with up to 20 policy options to determine the degree of compliance between the investment management decisions and the resultant portfolio composition. It enables NTC as investment manager to project into the marketplace a superior solution that assures prudent investment practices. Compliance IQ™ tracks policy exceptions along with a record of the date of resolution, tasks delegated to others, and notes logged by user(s) relating progress made to resolve issues. Some sample policy monitoring categories are:
Account vs. Benchmark performance and risk analytics,
Actual vs. Target allocations,
Concentrated positions,
Restricted securities lists, and
Cash management.
Client Communication – In addition to Portfolio Monitoring and Management Reporting, Client Reporting of investment performance and portfolio status relates asset classes to respective market segment performance by utilizing configurable, presentation-quality reports to highlight the value proposition and enhance and build relationships. IS reports convey important portfolio information, including:
Absolute, indexed and risk-adjusted performance,
Portfolio allocations,
Market values and cash flows,
Risk analytics and attribution, and
Specifics of holdings (equity/fixed income/alternatives).